3
Consider dentures with affordable dentures near me
– north miami
A smile with missing teeth affects your confidence and can be difficult to chew tougher food. at Affordable Dentures North Miami, we can improve your smile with denture options that fit any need and budget.
4
Dentures before and after
5
Do you want permanent dentures?
Do you want to make your dentures a permanent part of your smile? Now you can by anchoring them down to your gums. You will worry less each day about dental application with permanent dentures
Are you struggling with your dentures?
Are your dentures a bad fit? Do they loosen or often fall off? If you need to get them removed and replaced, then there is no need to stress. Affordable Dentures Near Me in North Miami can help.
A smile built to fit you
A person's smile is one of the first things you may notice when you meet someone. Start off with a good first impression with a healthy, beautiful smile. With new dentures, your appearance will be improved drastically and enhance your contagious smile.
6
The denture team
Affordable Dentures Near Me, North Miami, is filled staff of qualified experts with years of experience. Our team fixes, fits, repairs, anchors, and cleans dentures to make sure you are as happy as possible with your smile. There is no way you won't be happy with your smile after your visit.
7
We made denture affordable to all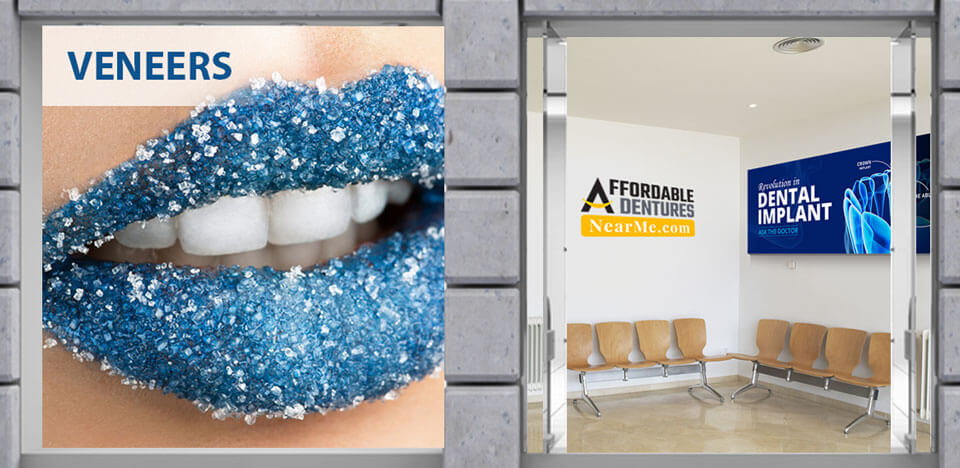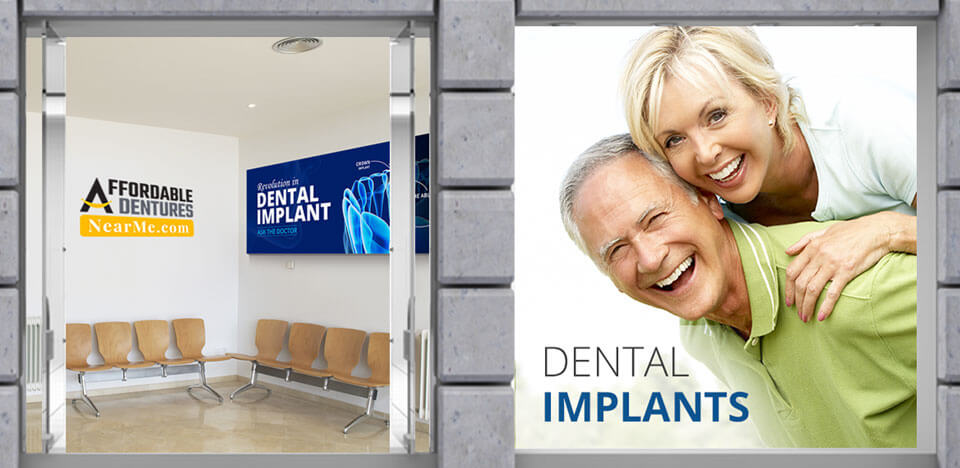 8
What are dentures made of?
Our dentures are created with tough resin that is stronger than other dentures that are made up of porcelain or plastic materials. These materials are typically more fragile than your natural teeth, which is why we use tough resin to make sure your dentures do the job. Dentures must be replaced every five years, so you don't have to worry about dentures breaking or falling off. As soon as your dentures are placed, you no longer have to have any fears. Ask our team today to learn more about permanent recommendations.
The products that we use to support the artificial teeth looks much like natural gums. We use a resin that has a similar look to your gums to make sure that your dentures look as natural as possible. This resin is very flexible, which allows for it to mold to your gum line with no problem.
If you want your dentures to be more permanent, then anchoring them down is a good option for you. this makes sure that your dentures do not slip, fall, or become misplaced the way that traditional dentures do.
9
This helps you eat the foods that you want to eat and drink the drinks you love without fearing that they will fall off. Using a daily adhesive to apply and remove your dentures every day is inconvenient and does not ensure that your dentures will stay in place all day. Our implanted dentures are fit to look like real teeth.
10
The reason you should consider dentures
Our dentures look natural and fit well so it can improve your smile and your life drastically. A smile that has missing teeth can cause a lot of insecurity and unhappiness. Do not let this unhappiness take over your life. With dentures, your smile will be restored and you will start to love smiling again. You can eat the foods you want to eat without fear and you will smile all day long.
Dentures are also a great solution to replacing rotting teeth that are causing you pain and serious health issues. Dentures may not be a good fit for everyone, which is why you should call today to learn if they are right for you. call our team in North Miami to learn more.
11
Dentures supported by implants
We keep the highest standards and professionalism. We believe personal responsibility and customer service builds the trust our patients want in a great dental clinic.
Our team makes sure that respect and professionalism are at the highest standards possible. We create a safe space for each patient to feel comfortable enough to talk to us about problems they are having so we can better assist them. If our patients want a more permanent set of dentures, they can have them anchored down and implanted into their gums. Anchored dentures are permanently fit into your gums and jawbone with custom crowns that are meant to look like your natural teeth.
12
Partial dentures
Partial dentures are made up of replacement teeth that are attached to a plastic base and a metal bridge to hold the dentures together. They are a fantastic solution if you still have healthy teeth within your gum lines. Partial dentures are fitted and secured to keep them and place and look like natural teeth. These are not permanent so they can easily be removed to be cleaned. Call today!
Consider overdentures
What are overdentures? They are a great alternative to traditional dentures are a good solution if you still have some natural teeth. These overdentures are fitted over your natural teeth. If you do not have natural teeth that these can be fitted over, our experts will attach implant structures to secure them. Overdentures are often more comfortable than traditional dentures. Call us today to find out what is right for you.
Are full dentures right for you?
Full dentures, also known as complete dentures, replace all of your teeth in your mouth. They are fitted to the top or bottom of your gum line and are held by a special oral adhesive. These can also be easily removed for sleeping and cleaning.
13
How should you clean your dentures?
Over time your dentures can collect plaque, tartar, and bacteria, much like our natural teeth. All of this can harm your gums and existing teeth. In order to clean your dentures, you must remove them from your mouth and hold them under running water. Brush them with a denture brush and cleaner. You must use a specific denture brush and cleaner instead of a toothpaste and toothbrush. These items can actually damage your dentures if you use these. Take a few minutes to clean your gums and natural teeth while your dentures are out.
Storing your dentures
Storing your dentures is important. You should always remove them before going to bed. It is so easy to damage dentures while you are sleeping. It is also important for you to relax your gums at night. When you are sleeping, make sure your dentures are stored in warm water, completely submerged. This way they do not dry out and lose their shape.
16